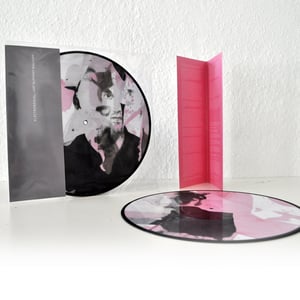 €

16.00
Pressed on 180-gram vinyl including a folded Insert with lyrics, credits and production infos.
Includes immediate download of the Album.
A1 - The Soul of the machine. 2:00
A2 - Tempelhof. 4:04
A3 - Art support machine. 3:48
A4 - Silver soul. 4:26
A5 - Fetish (ASFR) 5:34
A6 - I'm your machine. (Ft.Hard Ton) 3:58
B1 - The way they make you feel. 6:20
B2 - Automatic people. (Ft. Hanin Elias) 4:01
B3 - Crystal flesh. 5:00
B4 - Lay my eye. 4:40
B6 - Out of place.4:25
Genre/Influences: Analogue-electronics, minimal-electro.
Content: After the promising "Tempelhof"-EP I was eagerly awaiting to discover the debut full length of Electrosexual. Romain Frequency got the opportunity to releases a few noticeable remixes while some real famous names from the techno-body fields (like David Carretta) remixed Electrosexual. France definitely became a prolific ground for technoid-inspired artists and Electrosexual could progressively join this list of high-tech musicians.
The title "Art Support Machine" was inspired by 'machines, their identity, gender, sexuality & soul'. It all sounds a bit sci/fi like, but the compositions bring us back to some good-old vintage electronics and the flavor of the 80s. This picture vinyl features 13 songs, which are quite diverse, but always cemented by a real passion for old-school electronics. It's not only because of the equipment, but the global production. After a kind of intro-track the already familiar "Tempelhof" is an excellent track to take off with. It sounds like a wink to the early pioneers. But Electrosexual slowly starts to create its own sound identity, which is characterized by strong bass lines, typical analogue sweeps and a more contemporary technoid touch, which sometimes moves into acid bleeps. "Fetish" is a quite noticeable track in the genre, which also reminds me to the early work of Daft Punk (when they were into pure underground and not the commercial stuff of the past years).
Two tracks feature vocal lines while other cuts seem to have accomplished by a few samplings. "I m Your Machine" featuring Hard Ton (known project for all International Deejay Gigolo Records fans) is a great 80s inspired cut with some pop vibes on top. In a different, but still quite poppy-approach "Automatic People" featuring Hanin Elias (another famous artist for her involvement into Atari Teenage Riot) is another interesting song. Notice by the way that this song is meant to be released as EP-title track quite soon.
But the biggest potential hit of the album appears to be "The Way They Make You Feel". Well at least it's my favorite track for the great groovy sequences and sexy female vocals (samplings). It sounds pretty simply in the writing, but maximum efficient when it comes to sound production and danceability.
The last part of this work features a few more groovy sequences and other danceable 80s vibes. Electrosexual takes particularly care to accomplish the work with a styled sound production, which remains ones of the main forces of projects in the genre like The Hacker, David Carretta, Terence Fixmer ao.
Conclusion: Electrosexual is slowly, but surely finding its way to the top. This debut album reveals a great progression in sound while featuring multiple cool songs. This is an album I can only but highly recommend!
Best songs: "The Way They Make You Feel", "Tempelhof", "Fetish", "I m Your Machine", "Automatic People", "Androgynoid"
SideLine Magazine Sept 2014
artwork by Lukas Julius Keijser & Philip Marshall
Strictly Limited Edition (500 ex.)